Huge headline in the Socialist People's Collective of New Zealand's propaganda outlet: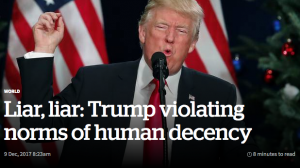 They've just replaced it with another item, but this was the headline photograph and article earlier today.
Of the dozens of articles about Trump and his Administration,(many of them sourced from the equally partisan Washington Post) I can recall only one positive item.
The NZ Herald is a festering pimple on the arse of real journalism, pushing various "progressive" agendas and providing almost no space to dissenting opinions unless it's to ridicule and distort them.